---
Lorelei's Journey
In all this, we have been grateful for the speed at which Lorelei is getting attention, and the way God has orchestrated specialists, who are only at SickKids once a month, to be there when Lorelei needed to see them.
Lorelei is not in any pain. One of her eyes is working fine, which allows her to do all she wants to do.
There is swelling within the affected eye, causing it to not work (Lorelei sees a large, dark circle in the centre of her vision when using only the affected eye).
The medical team is trying to diagnose what is causing the swelling.
While they are running tests and ruling out possibilities, they are treating her as if it is an infection.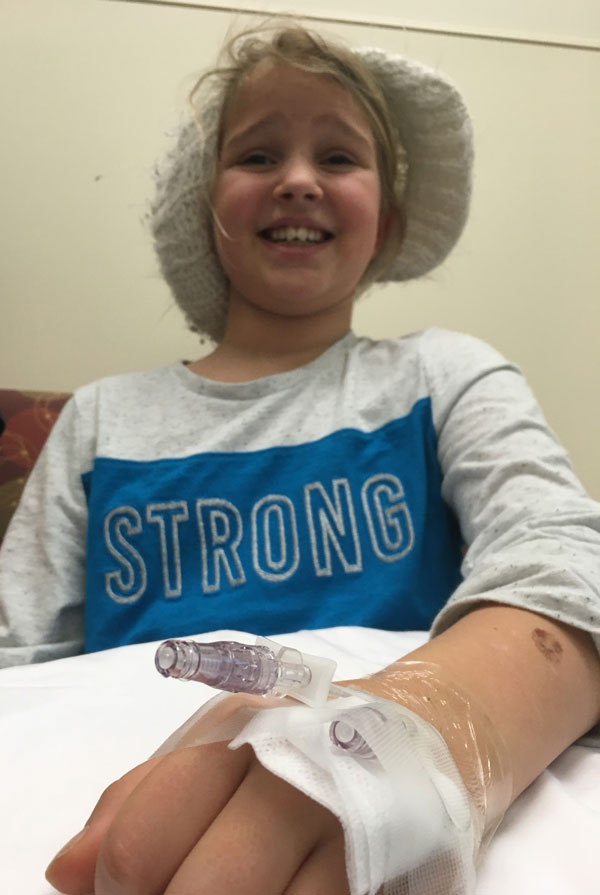 Praise and Prayer
Please thank God with us that Lorelei's vision is improving.
Please pray for safety as we drive the 2.5-3 hours each way between home and the medical team in Toronto.
Please pray that Lorelei's vision continues to improve, and that no scaring or damage will take place within Lorelei's eye.
Please pray that the original cause is found so that we can prevent future vision loss.
The timeline
Sunday, February 3, 2019—our 9 year old daughter mentioned discomfort in her one eye and blurry vision.
Monday morning it had not improved, so Angie took her to emerg who referred us to eye specialist (ophthalmologist) in Owen Sound who saw Lorelei the same day and found what appeared to be a blocked vein, and called a paediatric eye specialist in London. An MRI was arranged for the next day.
Tuesday—Lorelei had an MRI in Owen Sound.
Wednesday—Lorelei had blood taken for testing.
Thursday—results of MRI showed nothing unusual.
Friday—a followup appointment with the eye specialist in Owen Sound showed that the vision is worsening, so we were referred to SickKids in Toronto, who saw us the same day. This specialist agreed with what the doctor in Owen Sound had said, and scheduled us to see another specialist the next business day (Tuesday, February 19th).
Tuesday we went back to SickKids and Lorelei has some tests, and was seen by a retina-ophthalmologist who didn't think Lorelei's retina was affected and asked us to come back the next day to see a neuro-ophthalmologist.
Wednesday the neuro-ophthalmologist referred Lorelei to the neurology team (still at SickKids in Toronto) who admitted her and scheduled a number of tests for the next day, including an MRI of her head)
Thursday—testing underway, including MRI which showed nothing unusual. So the team started Lorelei on a 5-day steroid treatment via IV.
Friday—more testing
Saturday-Sunday—chilling in the hospital while on an IV 24-7
Monday—an MRI of her spine showed nothing unusual.
Tuesday, February 26th—Lorelei was discharged
all followup appointments have showed continued improvement in vision in her affected eye.
---
Why we do what we do
God's Word has many themes running through its pages. God's plan of redemption is an important one.
In God's plan of redemption, we find that the focus is on "unreached people groups".
From Genesis 12:3 when God promises to Abram that through him all the families [ethnic groups] would be blessed, to the glimpse of the finish line we find in Revelation 5:9 and 7:9 of every "tribe, tongue and nation [ethnos]" worshipping around the throne, we see God on mission.
The Great Commission as articulated in Matthew 28:19, "Go therefore and make disciples of all nations [ethnos]" is another clear example of God's determination to see believers from every ethnos in heaven.
It is for this cause that we are investing our lives—we want to see a thriving church for every people/ethnos.
To many, the funding model of Ethnos Canada is unique. We look to the Lord to provide for our financial needs through family, friends and churches.
Ethnos Canada does not fund our ministry. Both our personal wages and our ministry expenses (eg. travel for meetings) are paid out of donations designated for our ministry.
100% of gifts designated for our ministry are used for our ministry.
Our ministry roles
In order to see a thriving church established for every people, Jason works with a team to shape what people across Canada read, hear, touch and click from Ethnos Canada. This includes magazines, newsletters, websites and email updates.
Angie is on the oversight team for the K-12 school at Ethnos Canada, and teaches math to the children of staff and students at Ethnos.