Why Choose Ethnos?
Presenting God's Story, Step by Step
Most missionaries serve through sending organizations. How can you and your church choose the one that's right for you? Here are just some of the reasons you might choose Ethnos.
A biblical goal
Jesus commanded his followers to "make disciples of all nations" – literally, of every people group (Matthew 28:19). The early church understood that to mean establishing mature churches among previously unreached people (Acts). The Apostle Paul wrote that he desired to take the Gospel where it had not gone (Romans 15:20).While the world has changed a lot since then, the Word of God doesn't change, and there are more than 6,000 people groups that are still unreached. If you think that means that planting churches among unreached people should still be a priority of God's people, Ethnos is a good choice for you. That's our focus.
"Therefore go and make disciples of all nations, baptizing them in the name of the Father and of the Son and of the Holy Spirit"

Matthew 28:19
Effective Ministry
You're going to be putting your life into this, and your church will be pouring in prayer and resources, so you want to be part of an effective ministry.
In Ethnos, you'll be part of a team that is establishing churches guided by proven methodologies and a well-thought-out model of what the mature church should look like. Church planters work in the context of the people group's culture and language, so the message of God's Word is clearly understood. And God's Word is presented through foundational Bible teaching – presenting God's story step by step, as God Himself unfolded it.
We believe God has guided us in developing these tools and methods, and it is by His grace that Ethnos has been highly effective in establishing churches that grow in grace and faith, and that join in expanding the reach of the Gospel.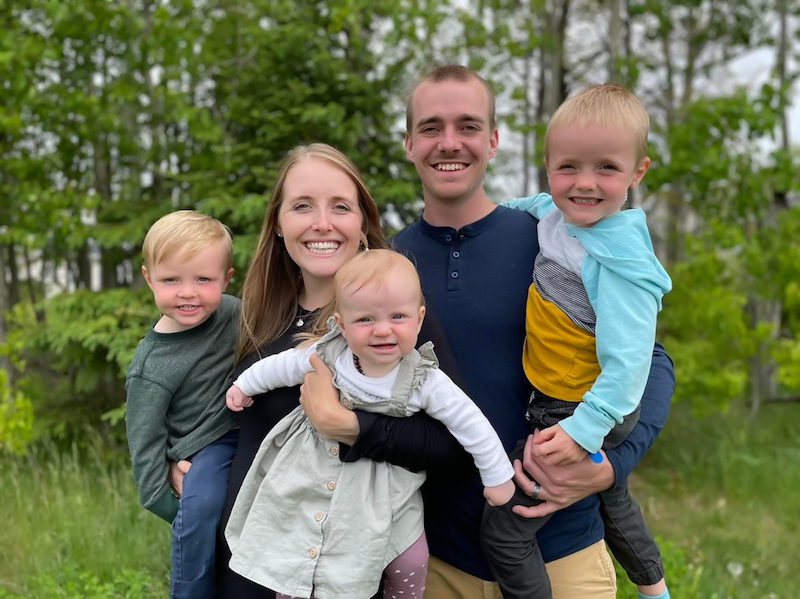 "The Lord has been faithful to reveal to us our neediness and His great provision. As we continue to take one step of faith at a time we are trusting the Lord with His future plans for us. We believe His grace will continue to carry us and He will work in and through us among the Inuit. He loves the Inuit people and longs for them to know His love. We can't wait to watch Him work."

Brandt & Lanie-Joy Whatley
Extensive Training
If you are given the opportunity today to plant a church in an unreached people group, do you know where to start … how to face the challenges ahead … and how to tell when the task is complete?
Ethnos provides specialized training because church planting among people with no concept of the God of the Bible is a difficult, long-term and complex task. Field-experienced missionaries will give you practical lessons. Your education doesn't stop in the classroom; it follows you into remote, unreached villages.
---
Teamwork
Teamwork begins with your church. Ethnos helps churches prepare and send missionaries, and involves your church leaders in the process. That's why it's important to discuss becoming a missionary with the leaders of your local church now. If you are not part of a church, that's where you need to start. Your community of believers will be sending one of their own, to help establish another community of believers.
If Ethnos is a good fit for you and your church, you'll have:
Access to pre-field, on-field and continuing training
Co-workers who fill in for you when you are ill or taking some time off
Leaders who are concerned with your spiritual and physical well-being
---
Freedom to focus on your ministry
You'll be part of a network of missionaries, in Canada and overseas, who are good at meeting a variety of needs such as processing contributions to your ministry, educating your children, maintaining electronics, providing flight service, figuring out how to buy what you need from a variety of vendors, and developing the tools and materials you need to communicate about your ministry. This frees you to focus on your ministry.
Whatever course you choose for serving God, you need to plug into the ministry that God has prepared for you, whether with Ethnos or elsewhere.
This is a big decision. Investigate. Ask questions. Engage in a dialogue. Above all, follow God.
Frequently Asked Questions
WHERE DOES ETHNOS HAVE OPPORTUNITIES FOR MISSIONARIES?
You'll find opportunities everywhere Ethnos missionaries are: Latin America, Africa and Asia-Pacific, as well as North America, Europe and Australia. Locations vary, from isolated jungles to bustling cities, hot lowlands to cool mountainsides, and lush rainforests to arid areas. The climate varies accordingly. Most locations offer gorgeous scenery. All provide great opportunity for cultural awareness and enrichment. Opportunities abound for associates in support roles.
CAN YOU TELL ME MORE ABOUT ETHNOS' TRAINING PROGRAM?
While career missionaries with Ethnos need to complete our training program, it is optional for Skilled Associate missionaries. Learn about training at Ethnos Training and the Ethnos360 Bible Institute.
HOW ARE MISSIONARIES' MINISTRIES FUNDED?
Ethnos missionaries are not paid. They look to the Lord for provision of their financial needs, knowing God meets the needs of those who are in His service primarily through His people.
Ethnos gives missionaries training and support in effective and appropriate methods of developing financial partnerships.
Monthly support levels vary from country to country, and ministry to ministry. Please contact our home office for example amounts for your family size and possible ministry location.
WHAT IF I AM IN DEBT?
We consider each person's situation regarding home mortgages, car payments and your ability to maintain these commitments while in the training or serving overseas on a case by case basis. Business matters, property arrangements and other situations involving finances must be satisfactorily arranged prior to entering the training or serving overseas as a Skilled Associate.
WHAT IS A WIFE'S ROLE AS AN ETHNOS MISSIONARY?
Ethnos sees family as an integral part of ministry. A key portion of the ministry missionaries have in the community at large is the example they set in living out their beliefs in the context of a healthy family lifestyle. Parents must seek God's wisdom in working out the harmony of serving in ministry as they lead their family.
Ethnos expects a commitment of both husband and wife to ministry. However, what that ministry looks like will vary depending on individual family needs and abilities.
WHERE WILL I LIVE?
In most countries, furnished housing will be provided for you. Missionaries pay rent to maintain these apartments or homes. In other locations, missionaries will assist you in finding a suitable apartment to rent.
WILL I BE REQUIRED TO LEARN A FOREIGN LANGUAGE?
While career missionaries will learn at least one new language, in most cases associate missionaries do not need to learn another language in order to perform their ministries. In the few situations where a second language is necessary, we'll make that clear before you even apply. There may be opportunities for you to learn a foreign language. All instruction at Ethnos schools for missionaries' children is in English.
WHAT TYPES OF EDUCATIONAL PROGRAMS ARE AVAILABLE FOR MY CHILDREN?
Ethnos Canada desires to help parents ensure that children are educated properly, in line with the standards that exist in their home countries.
Available educational programs vary by location. Most of our missionaries home school their children. We actively support home-schooling parents, providing certified teachers to assist parents when available. Some children attend Ethnos schools while other children attend schools jointly operated by multiple mission organizations. There are also some children who attend national schools.
We encourage our missionaries to seek God's guidance in this area in order to make the best educational decisions for their family.
WHAT IF I HAVE BEEN DIVORCED AND/OR REMARRIED?
A couple with divorce in their backgrounds will be considered for serving in Ethnos if divorce and remarriage took place prior to salvation. A divorced single person whose spouse has died will be considered for service in Ethnos. For more information, please contact us.
WHAT IF I'VE STRUGGLED IN THE PAST WITH MORAL ISSUES?
By God's grace, as we submit to the work of the Holy Spirit in our lives, He conforms us over time to the image of Jesus Christ. Admission coaches will work with you to determine your readiness to serve with Ethnos.
---
SPECIFIC TO SKILLED ASSOCIATE MISSIONARIES
WILL EQUIPMENT, SUPPLIES AND MATERIALS BE AVAILABLE FOR MY MINISTRY?
Generally, supplies and materials are available, although they may differ from what is commonly found in Canada.
AM I REQUIRED TO ATTEND ANY TRAINING?
A pre-field orientation is required. It is held in Durham, Ontario.
WHAT OTHER MINISTRY OPPORTUNITIES WILL I HAVE?
Depending on the location, you may have opportunities to participate in local outreach, but such involvement will be limited by your fluency in the national language. During ministry breaks, we encourage you to visit remote areas in order to experience firsthand Ethnos' passion and vision for taking the Gospel to unreached people.
Positions Available
Clinical Counselor
Provides member care and counseling to staff, students and parents. Performs preventative mental health education and programs. Provides consulting for administration on individual health needs as well as community needs. Maintains professional standards, including confidentiality. Models Christ-like character and addresses spiritual needs in counseling as appropriate.
IT Systems Security Engineer
This role reports to the IT Security and Compliance Administrator or designee.
Security & Compliance Administrator
This job's role is to ensure the secure operation of in-house and cloud computer systems, servers, and network connections in accordance with Ethnos360 internal processes, procedures, and compliance requirements.
Have More Questions?