"All right, brothers. This is your new tool. Make the best use of it!" Pilot Jeremiah Diedrich had just flown four Brazilian mission leaders on a 20-minute flight in the R66 helicopter that could have taken them days on the river.
In fact, four times in one week, Jeremiah demonstrated God's amazing provision of the R66 helicopter as a tool for reaching people with His Word.
After a year like 2020, with almost no flights, 2021 is bringing multiplied opportunities to show how the helicopter meets diverse needs in sustaining church planting teams among various people groups.
Can you relate to any of these uses of the R66 multi-tool?
---
Accessible health care
That doesn't take a toll on your health!
A young mom on a church planting team needed a 22-week checkup for her pregnancy. Rather than doing a days-long boat and land trip with her husband and toddler to get back to their ministry location, they got a quick jaunt in the helicopter. Since the R66 has a roomy baggage compartment, they brought supplies for their coworkers too. Having the helicopter means only days away from language study – not weeks – when the next checkup comes around. They'll even have energy left over to buy more supplies for the team while they are in town.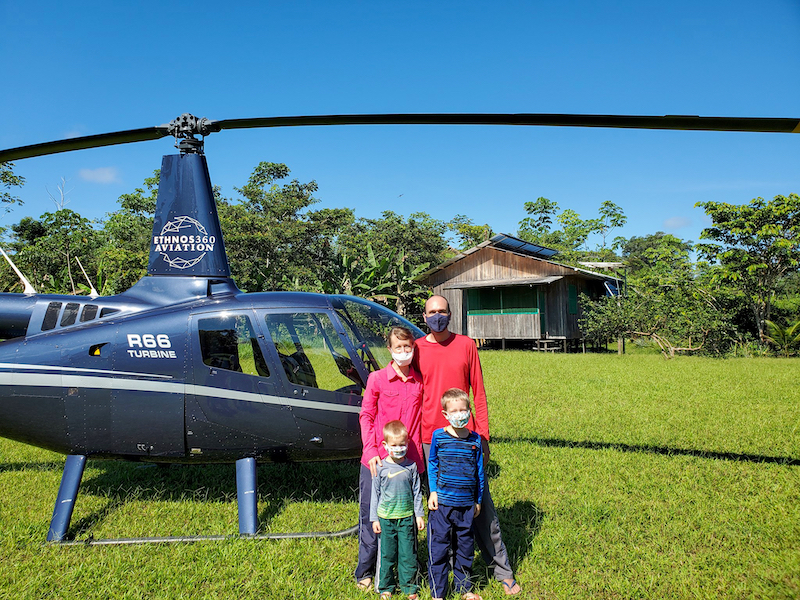 ---
Interaction with someone who speaks your language
And you don't have to make supper! 
Another young family, with no co-workers at present, can easily feel lonely in their jungle village. They miss interaction with believers and with others who speak their own language. What a boost to have a visit – especially when the guest is Jeremiah, the helicopter pilot, coming with a supply flight! He offered to bring pizza from town in exchange for staying overnight. Sounds like some extra-special fellowship!
---
Facing a years-long task
And knowing you have help!
Brian and Rachel and their two little boys have lived among a people group for about two years, with a long way to go before they can teach the people in the native language. During dry season, the river dips to ankle deep at places, making supply trips difficult or impossible. They've never had the benefit of air service to fly right over that river. But Rachel recently posted, "Yesterday we made history. Our first helicopter flight ever!" The whole family fit in the helicopter with some supplies too – and landed within 80 feet of their house! Not only that, but mission leaders flew into their area on a subsequent flight, something they'd never done before. They spent time encouraging Brian and Rachel and met some of the people from the village where they work.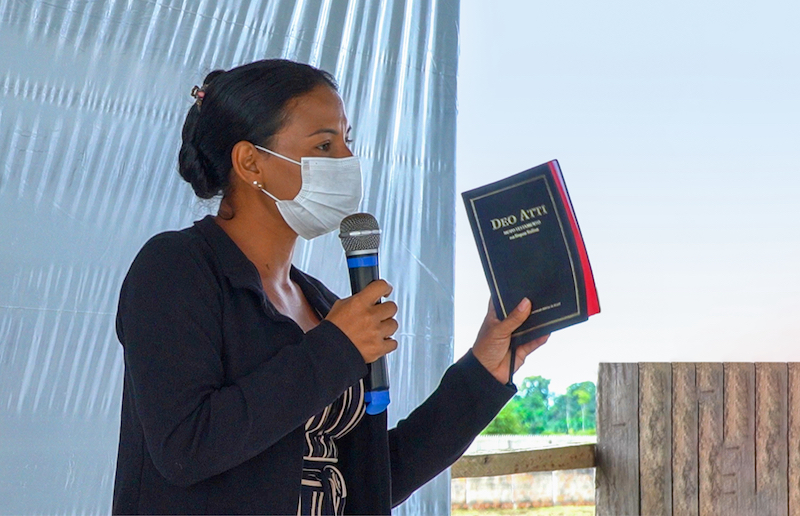 ---
Realizing the fruit of years of work
And knowing it can continue with the help of the new tool! 
On the first flight of the helicopter into the Kulina people group, pilot Jeremiah Diedrich brought precious cargo: Pastor Bira, his sister Edite and other Kulina people, returning to their childhood village, where years ago New Tribes missionaries had brought them the gospel. In the cargo hold were boxes of the completed Kulina New Testament – the culmination of 40 years' work. As a 12 year old, Edite remembers helping the missionary adapt the translation from SIL's Peruvian Kulina edition. Edite, now 38, couldn't wait to get the boxes unloaded.
Hundreds of villagers turned out, and Pastor Bira preached with ease in his native language. In the coming year, he will give up his pastorate and begin taking the Good News to more Kulina settlements. He is now the missionary!
As they left the village, flying over group after group of Kulina houses dotting the jungle, pilot Jeremiah said to Bira, "Well, this helicopter can land in any of those villages, so here's your vehicle, Pastor Bira, Kulina pastor! Go and preach to 'em."
Bira responded, "Yes! Yes! We're gonna do it. I'm gonna do it."
Partner with Pastor Bira and all these missionaries by making flights affordable.