God has provided excellent aircraft for Ethnos360 Aviation to use. But the best aircraft in the world are useless if the missionaries who need flights can't afford the costs. Ethnos360 Aviation is determined to provide air service to qualified missionaries, regardless of their ability to pay. You can help keep affordable flights a reality by participating in the Missionary Flight Sponsorship fund. When you do, we'll include you as one of our Ethnos360 Aviation Flight Crew. You'll receive a short newsletter called "On Eagle's Wings" each month, telling a current story or two of how your vital support is at work."
The Way It Was – Nice Tools, But Unaffordable Price
Ethnos360 Aviation realized that in Asia-Pacific, Brazil and the Philippines, over half of the work force of church planting missionaries consisted of Ethnos-trained, skilled and willing nationals and indigenous believers. But often these folks had low resources. "Our sandals are thin," they said. They lacked the funds to pay the ever-escalating cost of flights. To save money, their valuable time was spent waiting for transportation, enduring labourious land and sea trips to ministry locations, gathering food and tolerating inadequate supplies to get the job done. These things took a huge toll on time and energy – and on ministry. Gifted individuals, like national consultant Johnny Macad in the Philippines, could not maintain the pace, and they gave up. Continuity was lost. Progress lagged, producing disappointing outcomes in translation, teaching and making disciples.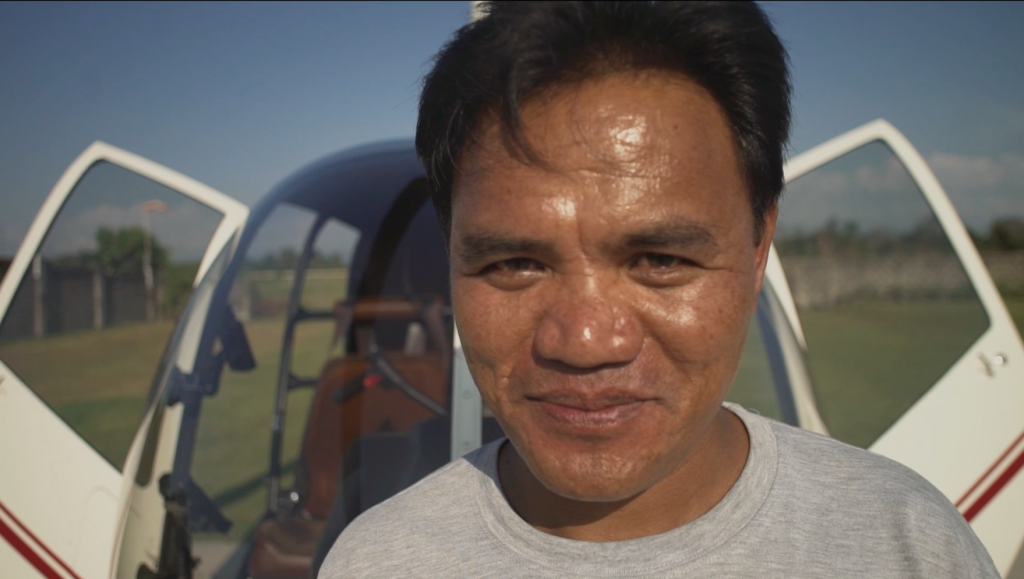 Further difficulty resulted when some members of a team could afford flights and others couldn't. Since so many nationals were trained and ready to reach unreached people groups in their own countries, most church planting teams, by design, consisted of both western and national families. A western missionary on the team might have been able to afford a flight, but he didn't have enough to pay for flights for the whole team. The inequity created an uncomfortable dynamic as the team tried to function together in ministry.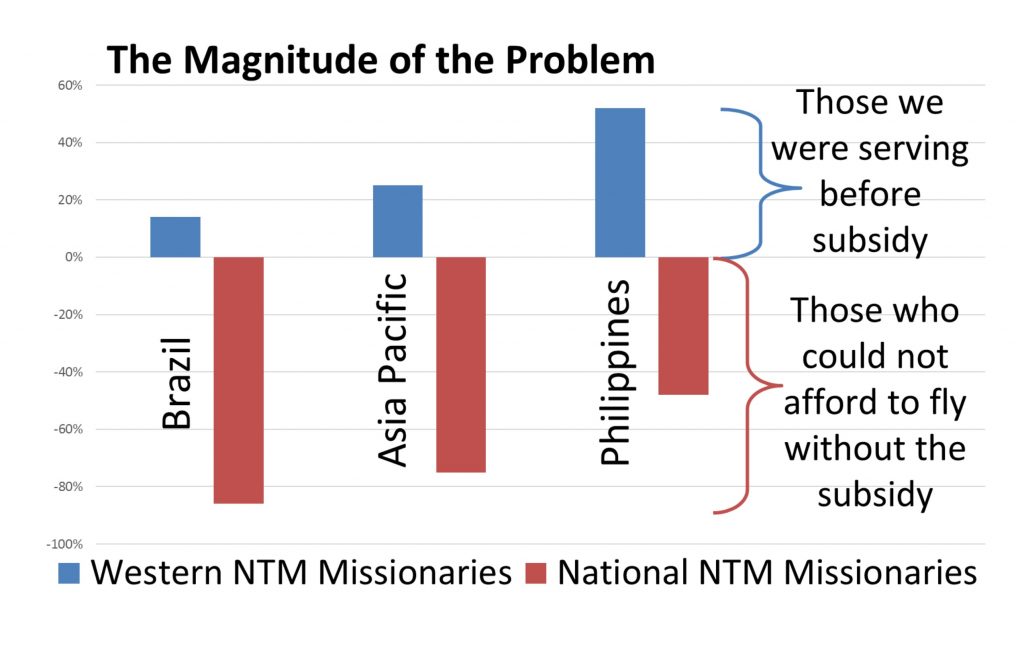 Note: Because Papua New Guinea has mostly western missionaries, they currently don't need as much assistance. As the tribal church matures and begins sending out its own missionaries, the need in PNG will increase.
The Way It Is Now – The Right Tools At The Right Price
In a bold move, Ethnos360 Aviation determined to stand shoulder to shoulder with our national coworkers and unleash their potential to reach people groups in their own countries by providing affordability-based flight service rather than traditional cost-based service.
In September 2015, we decided to take all the undesignated funds that we could and use them to start flight sponsorship instead of purchasing new aircraft. Rather than having more and better aircraft too expensive for people to afford, we chose to make it a priority to become a viable, accessible flight option for all of Ethnos' missionaries. In this plan, and as long as God provides, every missionary who needs flights in order to accomplish their ministry can have aviation service, regardless of the amount they can afford to pay. All — whether westerners, nationals or indigenous believers — serve side by side as equal partners, not hindered by the inability to travel. The strengths of all parts of the Body of Christ are in play, carrying out Ethnos' church planting strategy in unreached people groups.
Flight sponsorship is making it possible for all of our missionaries to actually live in remote locations where the only practical access is by air. Having an affordable aviation supply line frees up the church planting team to learn culture and language, undertake Bible translation, develop literacy programs, teach people to read and write, teach evangelistic Bible lessons and disciple new believers so that a mature church is planted. Flight sponsorship makes this process possible for every member of the team – whether national, tribal, or western – because it makes aviation affordable to all.
The Way It Will Keep Going – God's People Standing Together
As Ethnos360 Aviation has stepped out by faith to serve a much broader number of Ethnos missionaries, we are asking God for partners like you who will match our commitment to serve the national and indigenous church missionaries as well as the western missionaries serving alongside them. Planting thriving churches is a long-term effort requiring one or two decades, and we need flight sponsors who will make a similar long-term commitment to make sure church planting missionaries have the needed flight service.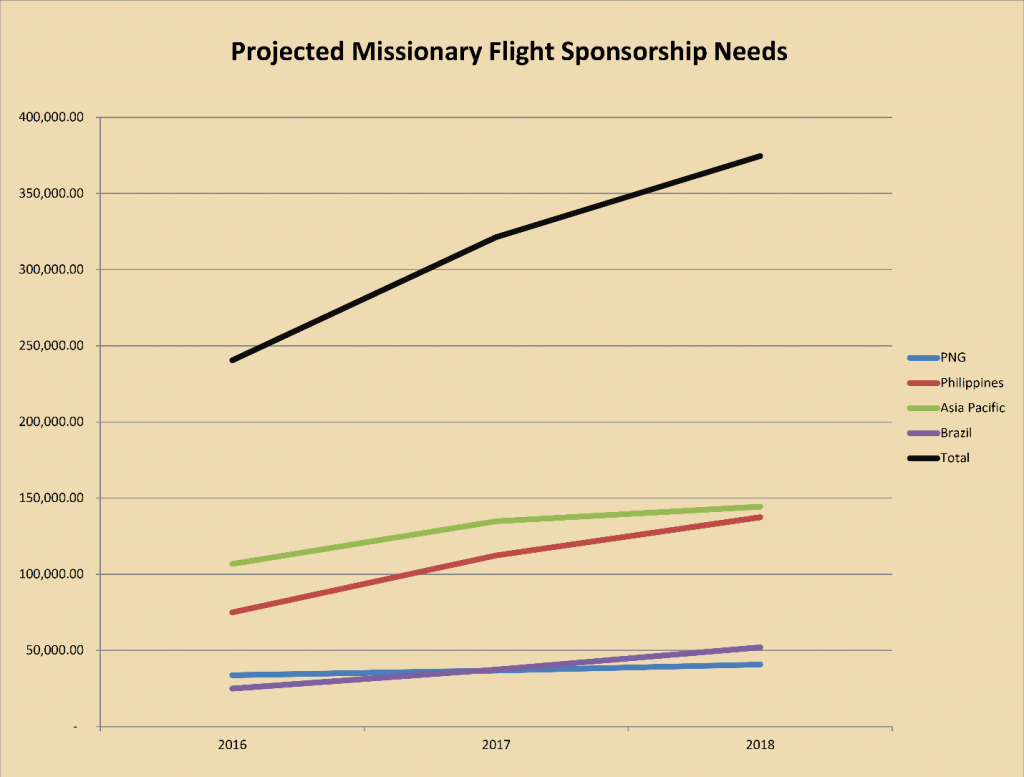 As they anticipate great growth as thriving churches reproduce, Ethnos leadership in Brazil, Asia Pacific, Philippines and PNG must plan ministry strategy many years in advance. They ask, "Can we count on you?"
With your help, God can turn this initial leap of faith into an effective, long-term, sustainable flight service that these servants of the Lord can count on. You can be a part of giving willing labourers the tool of aviation to maximize their effectiveness in reaching the lost for Christ. Would you stand with us as we stand with them until this job of fulfilling the Great Commission is done?
You can play a significant part…
You can become an advocate by praying and telling others about this need. Ethnos360 Aviation can provide you with additional materials so you can present the Flight Sponsorship opportunity to your mission-minded friends. Please contact us at 1-520-642-9280 or email Ethnos360 Aviation.
You can give a gift by sending a check to Ethnos Canada, 313363 Hwy 6 South PO Box 707 Durham, ON N0G 1R0, designated for Missionary Flight Sponsorship. You can also give by credit card on this page.
You can become a major player to ensure the long-term sustainability of flight service, especially for our national missionaries. To learn more about how your investment can play a significant part, please call Phil Koop at 1-520-642-6157 or email him.
When you give to Flight Sponsorship, you will be part of our Ethnos360 Aviation Flight Crew. We'll send you the "Aviation Jouranl" newsletter each quarter, featuring a current story or two showing you are providing affordable aviation service."

Thank you for being part of the team planting churches among unreached people groups.