The Missionaries Prepare for the Teaching
Taylor and Abby Goheen and Jon and Jen Myers, who serve through Ethnos360 USA, began living with the Kaje in 2015 to plant a church among them. Christopher and Lilli Meyer, with Ethnos360 Germany, joined the church planting team in 2019.
It would take much preparation before they could begin teaching. Developing relationships, several years of studying culture and language, developing and teaching a literacy program, translating the Scriptures into the Kaje language and developing Bible teaching lessons all preceded the teaching itself.
As Taylor and Jon developed the Bible lessons with three Kaje men, they could see God working through His Word. "I can already sense the fight within them of having to decide whether or not they will hold on to what they are hearing," observed Taylor.
Finally, the day came when teaching could begin.
A foundation of biblical truth was built layer upon layer, starting with Creation itself. Taught directly from the translated Scripture, the people learned where the sun, moon, stars, land, sea, animals and even where they themselves came from. It would take several layers of teaching before the Kaje were introduced to Christ in the New Testament.
Why would the missionaries need to go so far back to preach the gospel? And why would they need to teach four days a week for three and a half months? Couldn't they simply translate a gospel tract into Kaje? Wouldn't it suffice to tell them that they are sinners and must trust Jesus for their salvation? Even in our own culture, this approach has significant challenges. But to peopleof an animistic culture who previously had none of the Scripture in their own language, the barriers to comprehension would be exceedingly high. Think of the concepts that need to be unpacked: What is sin? Why is He the God above all others? What is justification? Who is Jesus and why do we need to trust Him? And salvation from what?
Taylor, emphasized the importance of laying the groundwork for teaching. "One of our goals in sharing the gospel here is that we do so in a way that will also lay a biblical foundation for the church to one day stand on."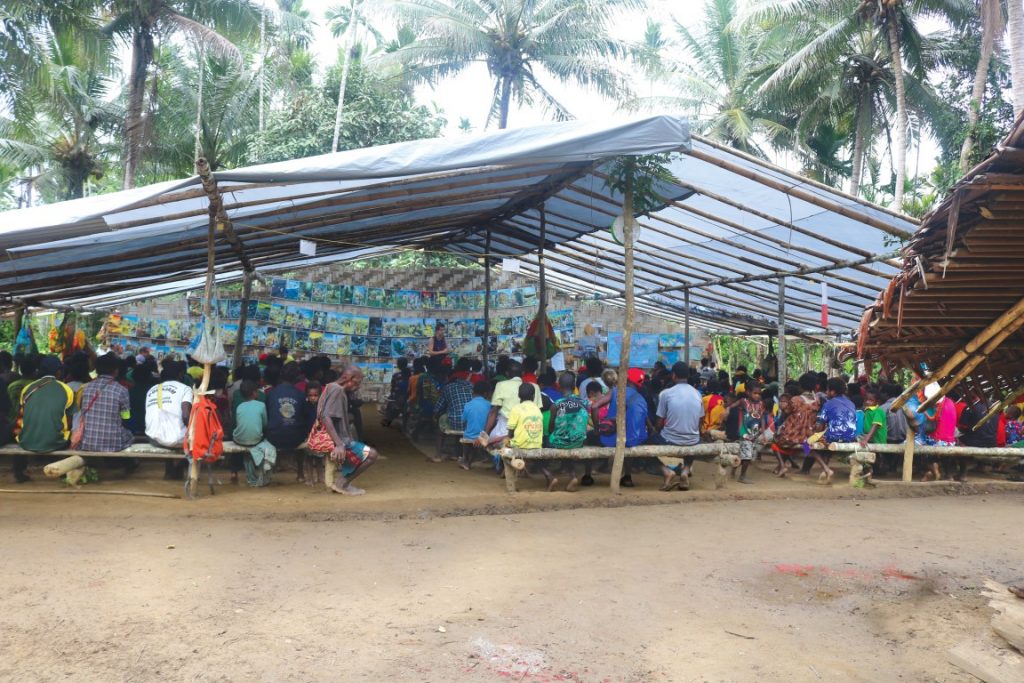 The People Prepare for the Teaching
"The Kaje people can hardly wait for the teaching to begin!" Christopher exclaimed. "So many times they've told us of their fears [of sorcery] and that they are completely hopeless and that only 'God's talk' will be able to change that."
Demonstrating how important the Kaje believe the teaching to be, they prepared large amounts of sago (their main food) in advance for the time of teaching. This was not their normal way. The people tend to live day-to-day. And yet, they did this on their own initiative.
Additionally, they built a "sharing house" the month before the Bible teaching started. This temporary, open-air shelter of almost 3,400 square feet would shield them from the sun and rain during the teaching.
---
God's Character Manifested from the Beginning
After a few introductory lessons explaining that the Bible is God's message to all humanity and that it tells us what God is like, Taylor and Jon began teaching from Genesis 1.
God's power and love was on display as the people grasped that He created all things that exist.
The follow-up lesson — the creation of Eve and another regarding the two trees in the Garden of Eden — grabbed the listeners' attention. They had previously encountered bits and pieces of Scripture in another language and picked up a wrong understanding. Now they learned that, before the Fall, work was not toilsome. Nothing was bad — no sickness, no pain, no fighting.
Moses, a Kaje man, upon discovering the results of the first family's choice, had this to say: "I am so mad at Adam and Eve. If they were still alive, I would beat them up."
Not surprisingly, "this is a very big and real deal for the Kaje," Abby pointed out. "They work and toil daily for survival. They literally eat and live by the sweat of their brow. Nothing comes easily here in Kaje.
"They are very eager to hear why things are different for us today. … We are seeing God's work in their hearts already!"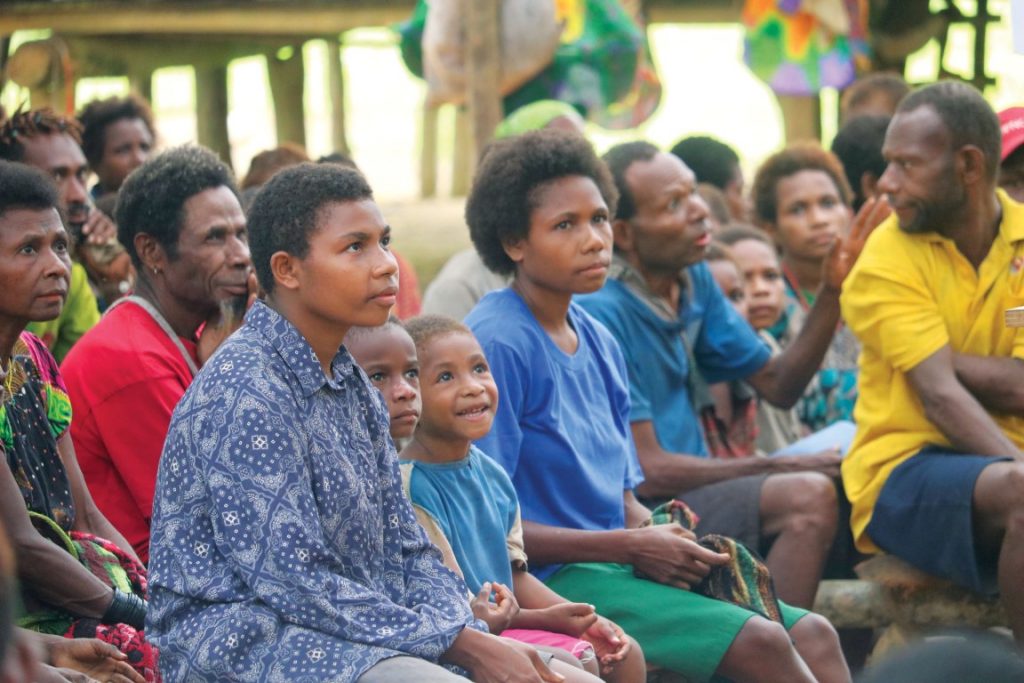 So many times they've told us of their fears and that they are completely hopeless and that only 'God's talk' will be able to change that.
Estranged from God
As the missionary team continued laying foundations of truth from Genesis, the Kaje learned not only of the Curse but also of their estrangement from God. Francis' concerns summarized what others were thinking. "Sin is in us, and we have a huge heavy with God because of our ancestors Adam and Eve."
"We talked about how sin is right there just waiting to control you," Abby continued. "It is not just this dormant thing that we do not have to worry about. No, it's right outside your door, it's hiding on the path that your feet will walk, it's just waiting for the right opportunity to pounce."
After the teaching that day, a distraught woman approached Abby; she was overcome with worry and grief because of her sinfulness. Abby told her to "hang on and keep listening because this is not the end!"
Excitement grew among the Kaje and the missionaries. Abby voiced, "My heart is bursting with excitement for her and all the Kaje to know that Jesus has paid the price for their sins, that sin does not need to control them and that in Him they can be cleansed and made righteous."
---
Like the People in Noah's Day
The missionaries taught about sin multiplying in the world. They recounted from the Scriptures how Cain tried to hide his sin. Lamech boasted about his sin. And the people of Noah's generation thought of nothing but evil. The Kaje continued to recognize their sinfulness and their need for a Saviour. Some even said that they were just like those of Noah's day.
"The Kaje also heard that there is a road for their salvation. Not lots of different roads, but one," Abby said. "They were challenged again with, 'Are you going to be like Noah and listen to God, or are you going to go your own way?'"
The weight of their sin was driving them to their Saviour. A Kaje man named Ananias declared, "God saved Noah all the way. I cannot wait until I hear how God is going to save me all the way."
Similarly, Cecilia, a Kaje woman, stated, "I am going to be like Noah and do whatever God says. I will not be like the people who did not get in the boat."
In addition to God's Word showing their sinfulness and leading to their contrition, they also saw God's power manifested. "God alone sends and calls off the rain," Abby said. "Here in Kaje there are men who 'call' the rain [through spirits], so this truth was a very hard thing for some to hear. Yet all the responses we heard today were spoken from humble hearts."
---
Hints of a Future Redeemer
God promised to bless all the nations through Abraham, including the Kaje people. Taylor explained that, through a descendent of Abraham, God was going to take care of the sin that had enslaved the Kaje.
The message was getting through. "As Taylor was reading these things, I saw a man nodding his head … with a big smile on his face and silently clapping his hands together," said Abby. "I can't help but think that [he] has truly felt the weight of his sin and that he cannot wait to be free from it. I also do not doubt that he is the not the only one feeling this excitement at this glimpse of hope."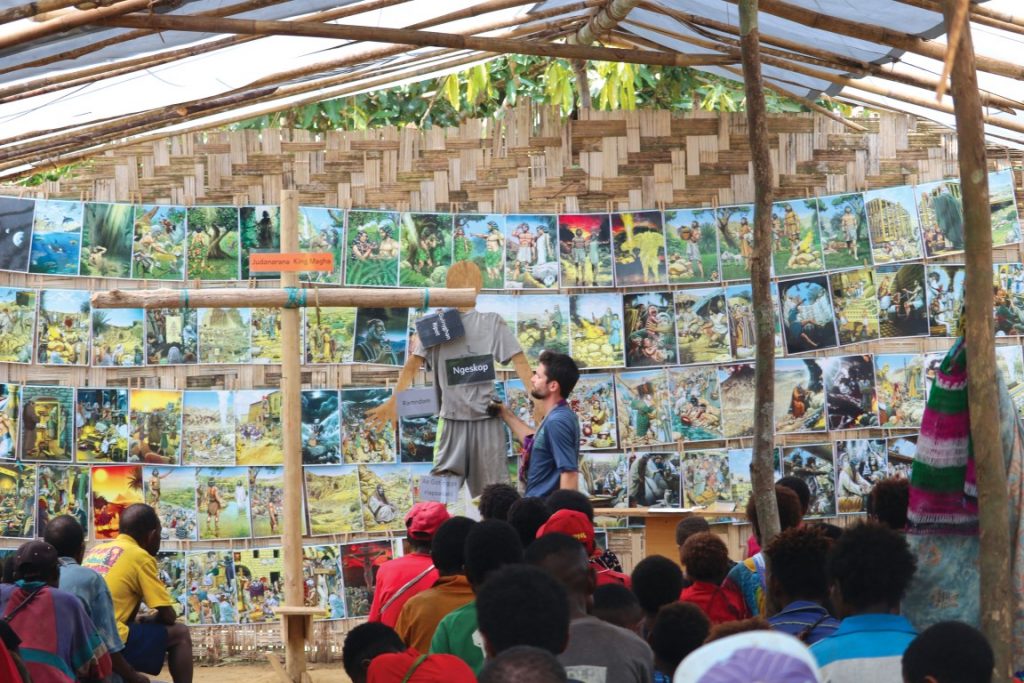 "I have so much sin. What am I going to do?"
In the Wilderness
Lessons continued from Abraham and Isaac, through Jacob and Esau, to Joseph and then on to Moses. The teaching emphasized to the Kaje, first, that God does help His people, not because they deserve His help but because of His great love for them; and second, that God's character never changes. He is faithful.
The missionaries specifically requested prayer "that the Kaje people will see God's love for them and that He doesn't love us because we are good. He loves us because we are His."
---
Like a Beautiful Tapestry
"God's story of redemption is like a beautiful tapestry woven together with so many intricate pieces of thread, making up one large, beautiful piece," Abby said. "Without those individual details, that picture would not be complete. The stories throughout the Old Testament are just like those pieces of thread, weaving together to present a beautiful picture of God's love for mankind. Without these stories, the picture would not be complete or as meaningful. As much as we want to hurry up and teach the people about Jesus, we don't want to give them a picture that is incomplete or hard to see. We want them to see the full picture of God's amazing love for them."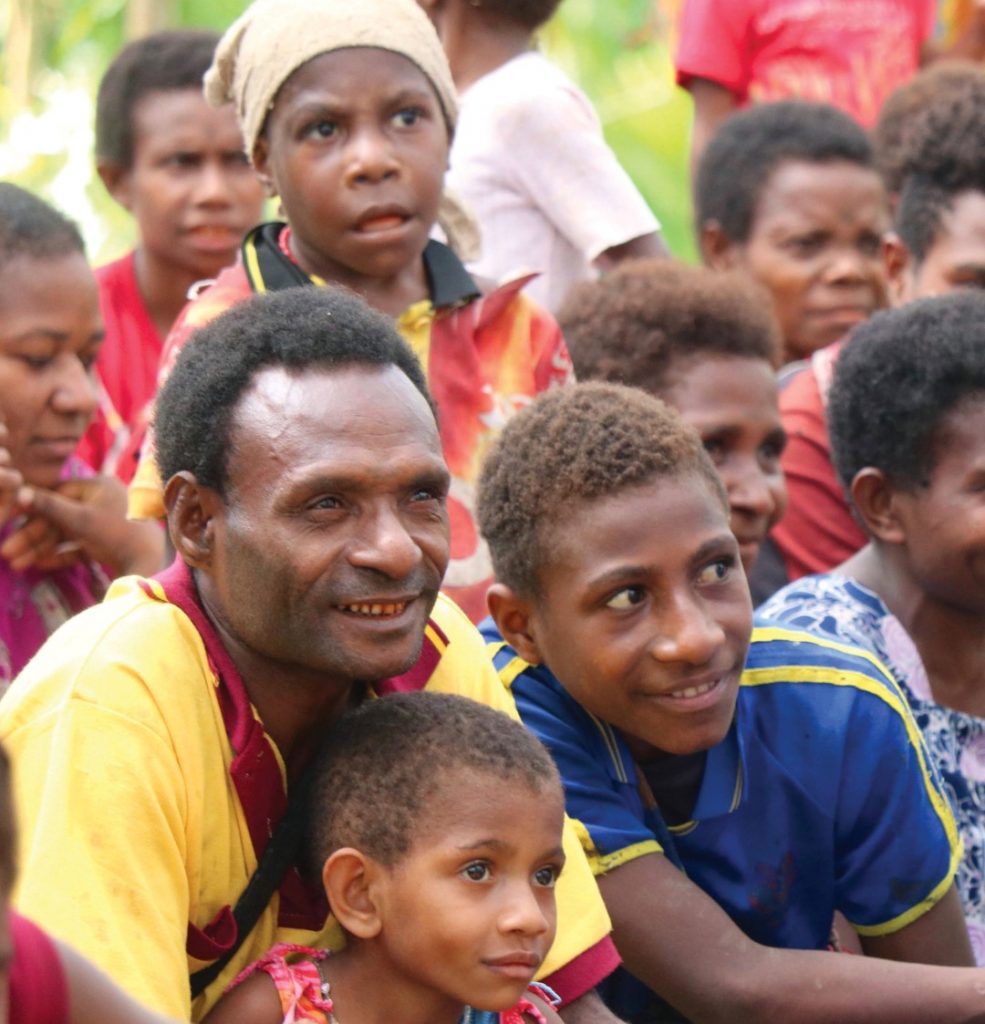 Continuing to the New Testament
The many weeks of teaching so far had all been in the Old Testament, laying a foundation for the coming Redeemer. After a brief explanation to give the Kaje some background on Jerusalem as well as the Pharisees and the Sadducees during the time of the New Testament, the missionaries introduced the coming of John the Baptist and Jesus. "These are just two of the promises that God has fulfilled," Abby said. The missionaries asked for prayer that the Kaje would see God's faithfulness in how He always follows through with His Word.
Regarding the birth of Jesus, the Magi's worship of Him and King Herod's desire to kill Him, Abby commented, "One of the main points … is that Jesus didn't only come to save us from our sins, but He came to be our King." Each day the Kaje's understanding of their Saviour grew.
There must have been so much joy in Heaven…
---
"Behold, the Lamb of God."
The lesson about Jesus' baptism overflowed with significance. As the Kaje understood John's words declaring Jesus to be "the Lamb of God, who takes away the sins of the world," the threads of teaching from the Old Testament merged seamlessly with the added threads of the New. Anticipation continued to grow in the hearts of both the Kaje and the missionaries. Abby said, "Each teaching day, the Kaje are learning more and more of who their Saviour is. There is no greater joy than seeing this unfold right before our eyes!"
---
Our Saviour's Power
The teaching crescendoed as the Kaje learned of Jesus' authority over sickness, storms, spirits and sin — traditionally all things they feared. With the lesson of Lazarus, they saw that Jesus has power over death itself, which, until this point, the Kaje had faced without hope.
The Kaje learned that Christ is "the way, the truth and the life" (John 14:6) and the only way to come to God.
---
A Church Is Born
The Kaje are no longer unreached. They as a people group have heard and understood the message of redemption.
"There must have been so much joy in Heaven during these last couple of months. But even if the people have now heard the gospel, [God's work among them] isn't finished yet," said Lilli Meyer. Though the marathon of initial teaching is over, the missionaries will continue to translate and teach the Scriptures to the Kaje. Discipleship will continue, and leadership will be developed among the people. And Lord willing, the Kaje will bring the glorious Good News to other peoples around them.
Study the Bible like the Kaje people did with Firm Foundations.
This proven, biblical approach leads you through the Scriptures chronologically, building layer upon layer. It is used by Ethnos missionaries around the world. What better way to teach people in our own country in these days of increasing biblical illiteracy!
Visit Ethnos Canada's online bookstore at:
About the Author
Sent by Calvary Monument Bible Church in Paradise, Pennsylvania, and Westside Community Chapel in Amboy, New York, David Pierce, his wife, Michelle, and their six children, served in Papua New Guinea for 13 years. As God closed doors there, He opened new doors of service with Ethnos360's Ministry Advancement team in Sanford, Florida.